Take part in the second Workshop
of the European Black Cycle project!
The AXELERA cluster is a partner of the BlackCycle project (www.blackcycle-project.eu), coordinated by Michelin, the objective of which is to create, develop and optimize a complete value chain for recycling tires at the end of their life, in the form of material first to reduce the impact on the environment.
This free workshop will be an opportunity to present the state of progress of the project but also to discuss with the stakeholders interested and involved in the creation of this value chain.
WHEN: 22 NOV 2022, 9AM TO 23 NOV 2022, 3PM
WHERE: HOTEL ZARAGOZA DIAGONAL PLAZA –
Avenida Diagonal Plaza, 30
50197, Zaragoza, Spain
WHO: PUBLIC
SUBSCRIPTION LIMIT: November 18th
ο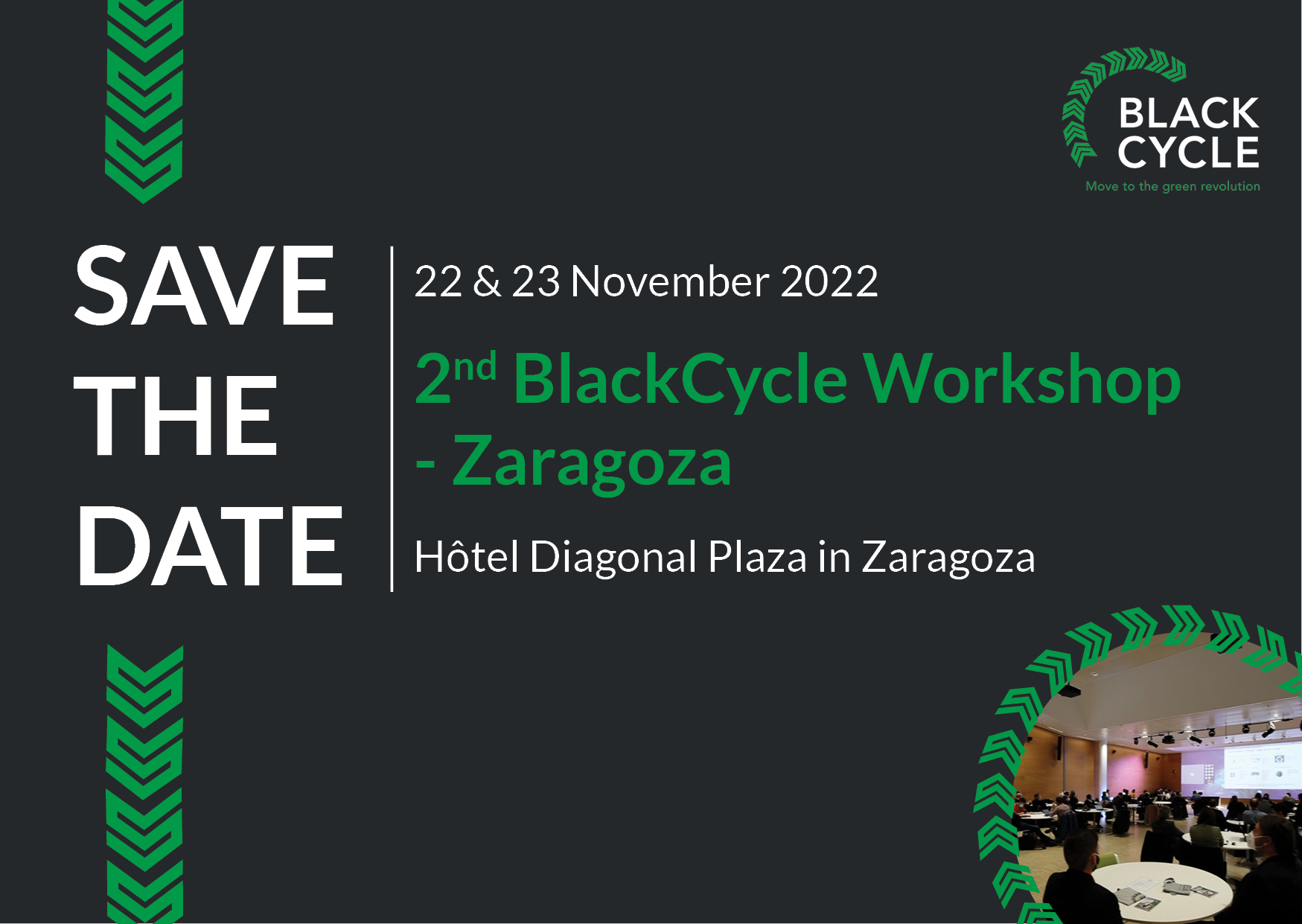 Program (provisional)
Before the event, a bus will leave from Lyon, France to Zaragoza, Spain.
Day 1
9:00am – 9:30am: Welcome
9:30am – 11:00am: Presentation of the BlackCycle project and its progress by the consortium
11am – 12pm: Presentation of relative project to BlackCycle
12pm – 12:30 pm: Networking session
12:30pm – 2pm: Lunch + posters sessions
2pm – 5:30pm: Working Group
– Technological dissemination of BlackCycle Solutions
– Social acceptance
– Regulation & Policy (available online)
Day 2
10:00am – 2 pm: Visit to CSIC & Sisener plant (face-to-face)
The event is totally free of charge and accessible face-to-face or digitally. You will need to specify when registering whether you wish to come on site or follow the event online.
The « Working Groups » are face-to-face, expect for the « Regulation & Policy » also available online.
Please note, if you are participating in the digital event, please register for the Working Group « Regulation & Policy », the only one available online.