The BlackCycle project has an upcycling ambition, targeting to create a circular economy of the end-of-life tyre (ELT) into technical applications like tyre industry by producing high technical second raw materials (SRMs) from ELTs. These SRMs will be used to develop new ranges of passenger car and truck tyres, which will be sold commercially in European and global markets.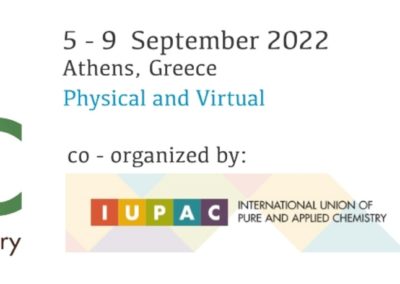 The 9th IUPAC International Conference on Green Chemistry (9th ICGC), will take place in Athens, Greece, on 5th – 9th September 2022 at Zappeion Megaron, offering the choice of virtual participation. The 9th IUPAC International Conference on Green Chemistry is organized by the Association of Greek Chemists(AGC) in collaboration with the IUPAC Interdivisional Committee on Green Chemistry for Sustainable Development (ICGCSD). It is endorsed by IUPAC and will be held under the auspices and recognition of EuChemS, ACS, the Hellenic Green Chemistry Network and the Departments of Chemistry of Aristotle University of Thessaloniki and of National and Kapodistrian University of Athens.
Ecologically destructive human practices that bring about climate change, have increased the risk of extreme weather events, food system failures, biodiversity loss, social inequalities, and geopolitical instability. As we struggle to face the ecological crisis and collapse in the time of the Anthropocene, environmental and social sustainable practices have become a vital issue for the survival of humanity.
The BlackCycle consortium present the first video of the project. This video presents the goal, the objectives, and the partners of BlackCycle.
Coordinated by the leading global tyre manufacturer Michelin and uniting 7 industrial partners, 5 Research & Technological Organizations (RTOs) and an innovation cluster into a European consortium in 5 countries, BlackCycle is based on a unique European public-private partnership that gathers all the necessary competencies along the circular value chain to ensure its success.