Take part in the first Workshop
of the European Black Cycle project!
The AXELERA cluster is a partner of the BlackCycle project (www.blackcycle-project.eu), coordinated by Michelin, the objective of which is to create, develop and optimize a complete value chain for recycling tires at the end of their life, in the form of material first to reduce the impact on the environment.
This free workshop will be an opportunity to present the state of progress of the project but also to discuss with the stakeholders interested and involved in the creation of this value chain.
WHEN : 22 – NOV 2021 – 9AM to 7:30PM
WHERE : MICHELIN CAMPUS RDI –
Ladoux – Rue Bleue, Michelin Campus RDI
63118 Cebazat, France
WHO : PUBLIC
SUBSCRIPTION LIMIT : 12 – NOV 2021 – 12:AM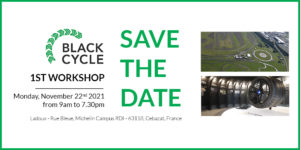 Program (provisional)
9:00 am-9:30am: Welcome
9:30 am – 12:30 pm: Plenary
Welcome from C. Moriceau, Director of Advanced Research, Michelin
Presentation of the BlackCycle project by :
– Michael Cogne, Director Blackcycle project – Michelin
– Ramon Murillo, WP manager Blackcycle project – ICB-CSIC
– Eleni Paxatouridou, WP manager Blackcycle project – CERTH/CPERI
– Robert MEYER, WP manager Blackcycle project – Orion
Euromaster presentation or Vision of Mobility in 2030, sustainability plan by Laure JAUBERT, Business Segment Manager – Michelin (14 years in Michelin) (→ To be define)
Presentation of 4 projects related to the BlackCycle project :

→ Iceberg project : Innovative Circular Economy Based solutions demonstrating the Efficient recovery of valuable material Resources from the Generation of representative End-of-Life building materials.

→ Polyinspire project : Demonstration of innovative technologies towards a more efficient and sustainable plastic recycling.

→ ICARPLAST project : Integrated Catalytic Recycling of Plastic Residues Into Added-Value Chemicals.

→ Resourcing project : RE-SOURCING is an EU-funded Multi-Stakeholder Platform that aims to advance Responsible Sourcing of raw materials along and across global mineral value chains. It strives to promote both strategic agenda setting and coherent application of practices for Responsible Sourcing.
12:30 p.m: Networking lunch + Poster Session
2 p.m – 3:30 p.m  : Launch of the Workshops
Circular Economy – Michelin
End of waste status -INERIS
Raw materials for the mobility of the future – ICAMCYL
Overview of the use of pyrolysis technology, roadblock and key success factors – CSIC
3.30 p.m: Coffee break
3:45 p.m. – 5:30 p.m: Visits
Michelin test tracks
Michelin Innovation Pavilion (PIM)
5.45 p.m – 6 :45 p.m : Closing cocktail
Register for the event
The event is totally free or charge and accessible face-to-face (70 people max) or digitally. You will need to specify when registering whether you wish to come on site or follow the event online (one single choice).
The workshops are also available online. Regarding the site visit, it will also be possible to watch a video of the visit to the Michelin Innovation Pavilion (PIM).
Please note, if you are participating in the digital event, please register for the workshop of your choice in digital format.
How to access the Michelin's site
In order to access the site, you will be asked to provide a valid identity document (identity card or passport).
After confirming your registration, the organizing team will contact you again so that you can send your ID no later than Friday, November 12, 2021.
You must also be in possession of your Pass'Sanitaire (complete vaccination or negative test of less than 72h – 48h for an anti-gene test).
For more information, you can consult the French government website here.
How do I get to the event?
Michelin RDI Campus
Blue Street,
63118, Cébazat
Access map :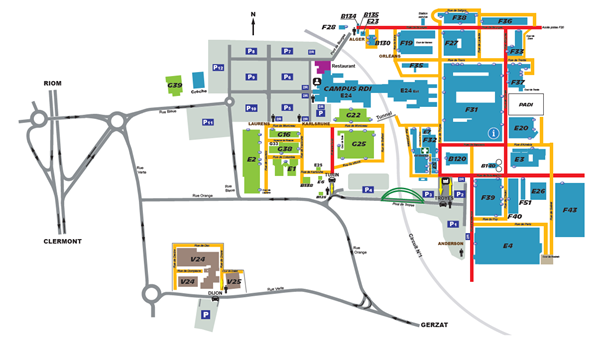 Hotels and buses
Best Western Plus Literary Hotel Alexandre Vialatte
4 star tourist hotel
Address: 16 Pl. Delille, 63000 Clermont-Ferrand
Phone: 04 73 91 92 06
For your convenience, Michelin has pre-booked rooms at this hotel. If you wish to book a room in this hotel, please specify that you are participating in the BlackCycle Workshop organized by Michelin. Do not delay in confirming your arrival.
Kyriad Prestige Clermont Ferrand Center
4 star tourist hotel
Address: 25 Av. De la Liberation, 63000 Clermont-Ferrand
A bus will be available from the hotel on Monday 22 November at 8:30 am to go to the BlackCycle Workshop.
The return shuttle will also be provided after the closing cocktail at 7:30 p.m.