Conference on Industrial Technologies IndTech 2022
IndTech 2022 is a flagship event on the European agenda, organized every two years by the European Commission in one of the countries holding the Presidency of the Council of the European Union.
IndTech 2022 took place in Grenoble in France. Moreover, this year is a special one for Grenoble, since the city has been named the 2022 European Green Capital. The award highlights Grenoble's long-term commitments concerning sustainable development, and this will be a year to go even further!
Part of Horizon Europe's Cluster 4 « Digital, Industry and Space » program, this event mobilizes key European and global players on the theme of tomorrow's industrial technologies.
IndTech aims to highlight the importance of this field for European research and competitiveness and to illustrate the synergies between research and innovation initiatives, in particular through technology platforms and, since 2021, Horizon Europe industrial partnerships.
IndTech2022 is a springboard to improve the visibility of industrial technologies, identify policy options and priorities, share information and compare views, as well as a privileged space to meet key industry partners and thus set up common goals between all stakeholders.
Topics covered:
Ecological and digital transition
Circularity and sustainability
AI for industrial manufacturing
Human-centered technologies
Advanced Emerging Technologies
Youth in science and technology
At this occasion, BlackCycle was present with a great booth. Stakeholders, scientists were present and came to our stand to discuss the project results.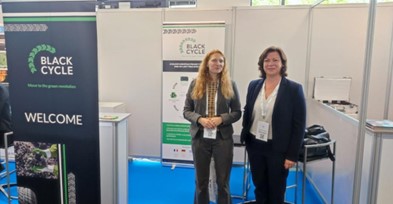 More information