What is Aliapur?
Aliapur is the actor of reference for recycling end-of-life tyres. It is a company that was created in 2003 and its founding members, who have equal shares, are Bridgestone, Continental, Goodyear, Michelin, and Pirelli. Our shareholders are also our first clients.
We operate as an eco-company and provide, on behalf of our 484 clients, a general interest mission that is defined and included in the French Environmental Code.
Our missions:
The collection of end-of-life tyres from 40,000 car industry professionals, thanks to a network of 25 collectors authorised by the Préfecture and with the Qualicert-Valorpneu accreditation.
Tyre sorting on the premises of these collectors so as to determine which tyres can be re-used (second-hand, retreading).
Preparation for recycling (shredding) on 14 transformation sites, all also accredited.
Recycling by industrialists under contract, both in France and abroad.
Aliapur's clients finance these operations thanks to an eco-tax paid for each tyre that requires processing (€1.22 excl. VAT for passenger vehicle tyres in 2021). The company does not receive a cent of public money. 376,000 tonnes of end-of-life tyres have been dealt with in 2019, or the equivalent of 47 million passenger vehicle tyres. This represents 80% of the total volume to be processed annually in France.
Our aims:
Since the start of our operations in March 2004, we have accompanied the key figures in the sector in developing and rendering sustainable a wide range of recycling solutions.
Aliapur also invests in the future by devoting a significant part of its budget to industrial research, carrying out studies, in situ analyses and laboratory trials, and supporting innovative projects in the field of the recycling of end-of-life tyres.
The projects supported must nevertheless:
be ecologically irreproachable;
present an innovative aspect;
satisfy the requirements of the market;
be economically reliable and viable;
potentially absorb volumes proportional to each annual collection.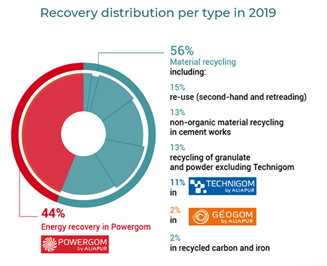 Aliapur regularly communicates its results and progress in terms of recycling solutions to the French State Department for Ecological and Inclusive Transition (Ministère de la transition écologique et solidaire, MTES).