About ESTATO Umweltservice GmbH
The company A.T.U Auto-Teile-Unger was founded in 1985 and is now the market leader in the German automotive service sector. The company currently operates around 550 branches in Germany and Austria, and its business model is based on the combination of master workshops with integrated specialist motorists' markets. Since 2016, A.T.U has been part of the European market leader Mobivia. With 19 brands, over 2,000 workshops and more than 22,000 employees, the group of companies has unique expertise in automotive service.
The environmental idea behind
For years, A.T.U has also been actively committed to the environment. This environmental awareness is also an integral part of the company's strategy and has been further developed into a business field of its own. Already since 1994, the subsidiary ESTATO Umweltservice GmbH has covered the complete workshop disposal of the entire branch network and also takes care of all environmental and energy consulting issues. All recyclable materials such as used tyres, car batteries, scrap metals, oil filters, operating fluids, or packaging materials are collected centrally in a closed reverse logistics system and professionally processed and disposed of in the two recycling centres in Weiden and Werl. This logistical masterstroke laid the foundation for a successful concept for recyclables processing and waste disposal. Today, ESTATO Umweltservice GmbH, as a certified waste and energy management company, is a partner for numerous regional, national, and international customers – to whom we are always available and extensively with our many years of experience. With its recycling activities, the company overall generates a yearly turnover of around €30 million.
Sustainability: mechanical tire recycling
Sustainable trade is always guided by the guiding principles of the European Union and strictly by the basic idea of the waste hierarchy. And it does so with the aim of making optimal use of the existing opportunities along the value chain. In addition to highly efficient processes, the use of state-of-the-art plant technology and its constant further development is also an important component of the corporate strategy.
One of the main pillars of the business model is the recycling of used tyres. After delivery to ESTATO, the first step is to check the condition of each individual car tyre and the possibilities for reuse. Several thousand tyres are checked daily by the employees for size, tread depth, overall condition, damage, load capacity, manufacturer, and speed limits. Around 30 per cent of the tyres inspected can currently continue to be used on secondary markets worldwide (used tyres or rethreads). The rest, which is no longer suitable, is directly processed and recycled.
These non-reusable tyres then go through a multi-stage, purely mechanical reprocessing process. With this process, it is technically possible to break down car tyres into their original components. Using special granulators and sophisticated cleaning and screening technology, the tyres are further processed in the fine granulation unit until the individual components are completely separated from each other. Passenger car tyres consist of about 70 percent rubber, the rest being textile fibres and metal wire. The resulting rubber granulates can be provided just-in-time as a new raw material in various qualities and grain sizes based on individual customer requirements.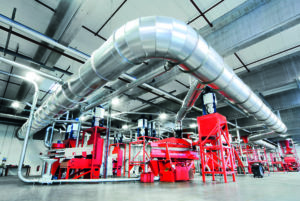 Value chain will be finally closed
With a current processing capacity of around 10 million tyres per year, ESTATO Umweltservice GmbH already operates one of the largest tyre recycling plants in Europe and has thus become one of the leading suppliers of high-quality rubber granulates.
Currently, the rubber granulate obtained from the recycling of used tyres is used for secondary, partly high-quality everyday rubber products such as sports fields, floor coverings and fall protection mats. However, a true closed-loop process with recovery of the material for new tyre production has not been possible so far.
But this is precisely the goal of the BlackCycle project. Here, the complete value chain from scrap tyre raw material to secondary raw material (SRM) is to be developed and established. The recovered secondary raw materials will be fed into the development of new car and truck tyres for the European and global markets.
Resource conservation and climate protection
We are therefore very pleased to be able to provide significant support for the BlackCycle project as an industrial partner and exclusive supplier of selected raw materials. With this highly exciting large-scale project, ESTATO Umweltservice GmbH is opening a new chapter for resource conservation and climate protection. The activities are even more closely aligned to a significantly lower CO2 footprint, consequently noticeably lower demand for fossil resources and sustainable growth. Our long-standing know-how is to contribute to a significantly changed scrap tyre management through an economically and ecologically viable alternative. A major milestone towards one of the most important but also very challenging corporate goals: an annual reduction of CO2 emissions by at least 5%, by 2030 by a total of 50%.
The future strategy after industrial realization of BlackCycle is also clearly in the area of sustainability. For this very reason, ESTATO is already working on further research projects and technical developments: Re-commerce and second-life from waste products (for example, extending the product life cycle by regenerating old vehicle batteries), increasing the use rate of recyclable plastic materials in new products (upcycling), processing and refining textile cord fibers from tire recycling (development of special insulation materials), or the professional dismantling of components from the field of e-mobility.