The Blackcycle partners has been very active since July. They have participated to numerous international congresses and conferences.
1 – In June 27-30th, 2022, the CPERI-CERTH was present at WasteEng22 "9th International Conference on Engineering for Waste and Biomass Valorisation", in Copenhagen.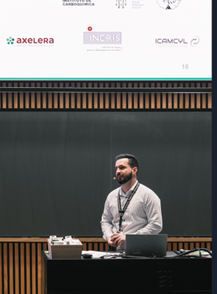 At the heart of sustainable development, the WasteEng conferences have been developed to advance the green economy, to make it more resource efficient, resilient to climate change and in sync with the natural environment. While focused on scientific and technological advances, the topics covered are very concrete, such as life cycle assessment and technologies/processes/practices that reduce GHG emissions.
Dr Stelios Stefanidis presented the work entitled: "Catalytic pyrolysis of end-of-life tyres: Effect of catalyst type on the production of highly aromatic oils".
2 – Arndt-Peter Schinkel from Orion was present at the Carbon 2022 in July 3-8th, 2022.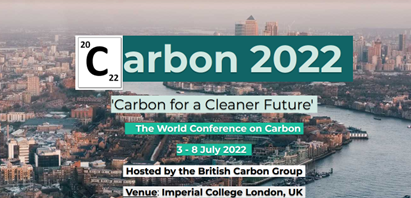 After a 2-year absence, the British Carbon Group has hosted the 21st edition of the World Conference on Carbon, held at Imperial College in the heart of London. Since the first World Carbon Conference in 2000, scientists from around the globe have discussed and celebrated advancements in the field of Carbon science and technology for greener.
Dr.  Stylianos Stefanidis presented  "Recycling of end-of-life tyres via pyrolysis and catalytic vapour upgrading"  in July, 16th 2022.
The major objective of this symposium was to promote the scientific dialogue supporting the sustainable management and usage of natural resources and the shift in the use of renewable resources with best paradigms, practices and policies at the local, Mediterranean, European and global scales. This was  achieved by addressing the technical, socio-economic, ecological and sustainability dimensions in the context of "Accelerating the Transition to Equitable, Sustainable, Post-Fossil Carbon Societies!".
4 – At the end of august (August 28- September 1), CPERI-CERTH was present at EuChemS "8th EuChemS Chemistry Congress", in Lisbon (Portugal).

The 8 EuCheMS Chemistry Congress was built under the unifying theme of Chemistry the Central Science, focusing on the central role of chemistry at the interfaces with biology, material and environmental sciences, both for the progress of humankind and for the solution of fundamental problems of modern societies.
Dr Eleni Pachatouridou presented the work entitled: "Upgrading the Heavy Pyrolytic Oil from End-of-Life Tyres to High-Quality Carbon Black Feedstock via Hydrodesulphurization and Aromatization. »

The conference took place in Athens, Greece, on 5th – 9th September 2022.
The main aim of the IUPAC International Conference series on Green Chemistry (ICGC) is to bring together all relevant stakeholders from academia, research, industry, NGOs, policy makers and society, to exchange and disseminate knowledge and ideas that promote the concept of green chemistry, sustainable development and circular economy.
Dr Stefanidis presented "Catalytic upgrading of end-of-life tyre pyrolysis vapours for the production of highly aromatic pyrolysis oils".